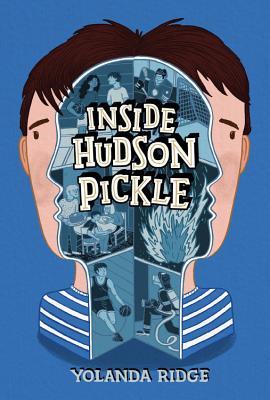 Review


I received an eARC copy of this book from the publisher. Here is my honest review.
Hudson Pickle is a teenage boy struggling with growing up; he has a growth spurt that no only has him towering over his friends, it gets him cut from the hockey team, his favorite sport and the one thing that he thinks identifies him. He also has no idea who his father is and while it might not have been an issue in years past, it is becoming more and more important to him to know who he was and what he was like. His mom wants to protect him from the realities of life and Hudson feels like he is old enough to have his questions answered. He is not a little kid and resents being treated like one. (Despite the friction between Hudson and his mother, it does not create a rift between them that cannot be bridged).
Ridge does a really good job of writing in the voice of a seventh grade boy who is trying to figure out who he is, friendships that change, his mom and girls. There is of course the bully that Hudson and his friend Trevor must deal with and I really like how Ridge shows the duo dealing with him and realizing that he is not someone to fear and how they stand up for themselves.
The ending was pretty good: Hudson finds a new sport to love and has repaired his friendship with his best friend, and yet, it felt like there is more to Hudson's story.
This is definitely a book that I would let my son read: drug use, bullying, lying are dealt with in the book but done in a way that one, doesn't glorify the activities and two, opens the door to discussions on these issues that teens today are facing. Talking about them through a fictional character is one of the best ways to broach the subject in a way that is safe and allows them to open up in a way that is less threatening than talking about real-life people they know.
★ = I did not like it
★
★ = It was okay
★
★
★ = I liked it
★
★
★
★ = I really liked it
★
★
★
★
★ = I loved it
Review
It pains me to give this book one star; however, if I'm being honest, I just did not enjoy it.
I was excited about this book: a bookworm who ends up falling for a friend - that is right up my alley.
And yet, Phoebe drove me absolutely bonkers. I didn't feel like she was a particularly strong heroine, despite her desire to be.
I don't want to go too much into why I didn't like this book. I think much of it can be attributed to the fact that I am an adult mom and this is a YA book that you need to be a teenager to actually enjoy. Just don't think it is anywhere close to reality. It's a fairy tale.
I received an eARC of this book from the publisher. This is my honest review.
★ = I did not like it
★
★ = It was okay
★
★
★ = I liked it
★
★
★
★ = I really liked it
★
★
★
★
★ = I loved it