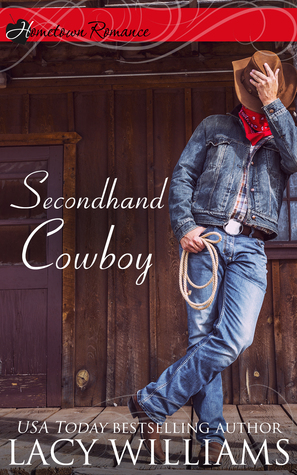 Book Description


Iris Tatum hasn't seen her high school sweetheart Callum Stewart since he left years ago without a single word. Then she witnesses an horrific hit-and-run accident, and comes face to face with her past–and Cal's triplets. A volunteer paramedic, Iris can't walk away. No matter how much she wants to.
Bull rider Callum Stewart was run out of town at age twenty and vowed never to return. Only one thing could bring him back: building a future for his sons. Now, thanks to the accident that left him with a broken leg—he needs help to care for his boys. He has no choice but to accept Iris's grudging help.
As they rediscover a friendship–and the sparks that never faded between them–Callum's secrets are brought back with a vengeance. How can they keep the past from destroying their future?
Review


I would like to thank Redbud Press for sending me a copy to review. Here is my honest review.
I utterly adored this book. It is a formulaic romance and I enjoy those types of books, typically giving them a three star rating (I liked them, but they didn't stick with me). I gave Secondhand Cowboy four stars, I enjoyed it that much!
This book had so many elements that I enjoy in a romance: cute cowboy, rowdy boys (in the form of toddler triplets who stole my heart right along with Iris'), a second chance at love, and a small town. I really enjoyed the theme of forgiveness that Williams weaves into the story. Callum was convinced that he wasn't worthy of Iris' forgiveness yet she gave it so easily. I loved that she took time to reflect on what he meant to her and fought for him.
Since this is a formulaic romance, there are no big surprises, a guaranteed happy ending and it won't cure a world problem; it did however, put a smile on my face and leave me with a warm fuzzy feelings throughout.
I really, really hope that Williams writes stories for Jilly and the dress shop owner. Sam. And even Mike, who is already married but I have a feeling there's a story there as well.
★ = I did not like it
★
★ = It was okay
★
★
★ = I liked it
★
★
★
★ = I really liked it
★
★
★
★
★ = I loved it
Want to Know More?


Visit
Lacy Williams website
to learn more about books she has written. I joined her mailing list; I definitely will be looking at past books she has written and look forward to reading her new works as well.
Kissed By A Cowboy
, a novella by Lacy Williams is currently offered for free at Amazon(paired with another Redbud Press book). As I was looking up other works by Williams, I noticed she had a story (which happens to be
Kissed by a Cowboy
) in the First Kisses anthology which I
reviewed last year;
I looked it us and that just happened to be my favorite in the anthology. I love it when I think I've found a new author whose work I enjoyed only to realize that I actually had read their work before.