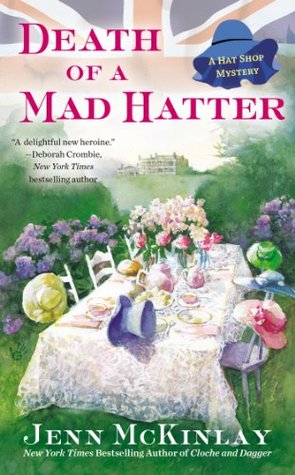 Book Description
Scarlett Parker and her British cousin, Vivian Tremont, are hard at work at Mim's Whims—their ladies' hat shop on London's chic Portobello Road—to create hats for an Alice in Wonderland themed afternoon tea, a fund-raiser for a local children's hospital. It seems like a wonderfully whimsical way to pass the hat, and Scarlett and Viv are delighted to outfit the Grisby family, the hosts who are hoping to raise enough money to name a new hospital wing after their patriarch.
Unfortunately, the Grisby heir will not live to see it—he's been poisoned. When traces of the poison are found on the hat Scarlett and Viv made for him, the police become curiouser and curiouser about their involvement. Now the ladies need to don their thinking caps and find the tea party crasher who's mad enough to kill at the drop of a hat…
Review


I borrowed this book from my local library. Here is my honest review.
Super cute! I remember picking up the first book in the series,
Cloche and Dagger
based on the title and really enjoyed it. I am fascinated by the British custom of hats. It's so vintage, refined, chic, classic...
McKinlay has created an endearing cast of characters for this series that kept me reading and looking forward to the second book. Scarlet is not afraid to speak her mind and be who she is - really admire that! Harrison is charming (except when he's bossy) and seeing the relationship develop just a tad bit more in this book was the perfect amount of satisfying.
★ = I did not like it
★
★ = It was okay
★
★
★ = I liked it
★
★
★
★ = I really liked it
★
★
★
★
★ = I loved it