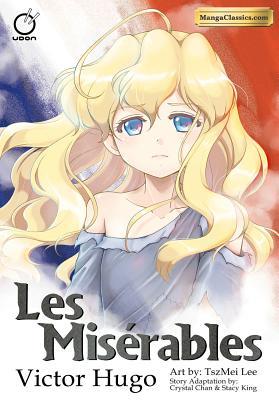 Publication Date: NetGalley listed the date as August 1, 2014. It is available for pre-order at different dates on the websites listed.
Book Description
Adapted for stage and screen, loved by millions, Victor Hugo's classic novel of love and tragedy during the French Revolution is reborn in this manga edition!
Review


I received an eARC copy of this book from the publisher via NetGalley. Here is my honest review.
I've seen the play/musical production of Les Miserables so when I saw a graphic novel adaptation I wanted to visit the story again.
It is enjoyable to read and I think my rating would be higher if I had had a print copy to review rather than a digital copy. It was difficult at times to read given the size constraints. I would see this as a quick way to cover a great piece of literature in an English class. It would definitely appeal to students who do not consider reading or literature to be pursuits that they especially enjoy. Some may feel that it is a disservice to a classic piece of literature. I believe that as teachers, we should honor all forms of the written word and encourage kids to read what they will find enjoyable. When kids enjoy reading, they read more. The more they read, the better their vocabulary and ability to relate to a wide variety of experiences.
★ = I did not like it
★
★ = It was okay
★
★
★ = I liked it
★
★
★
★ = I really liked it
★
★
★
★
★ = I loved it