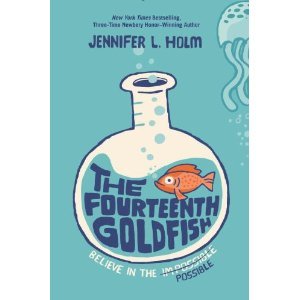 Book Description
Galileo. Newton. Salk. Oppenheimer.
Science can change the world . . . but can it go too far?
Eleven-year-old Ellie has never liked change. She misses fifth grade. She misses her old best friend. She even misses her dearly departed goldfish. Then one day a strange boy shows up. He's bossy. He's cranky. And weirdly enough . . . he looks a lot like Ellie's grandfather, a scientist who's always been slightly obsessed with immortality. Could this pimply boy really be Grandpa Melvin? Has he finally found the secret to eternal youth?
Review


I received an eARC copy of this book from the publisher. Here is my honest review.
This was such a great middle-grade book! The opening grabbed me and pulled me in immediately. I'd love to know Starlily - I bet her preschool class is a fun place! The book is written in first person which is not my favorite - and this book reminds me why. Don't get me wrong - the writing is really good, I finished this book in one evening. You get one perspective - that's it.
Great characters - Melvin made me smile all the time. My favorite part of the book is the way Holm champions science and Ellie is encouraged to explore science. Certainly there is a push for more science education (have you heard of STEM? Science, Technology, Engineering, Math) in the past decade that has been expanding into other domains as well. In addition to being able to discuss women in science, this book also broaches two other subjects that are also very weighty and relevant. First, there is the exploration of friendships that change and fade and the emergence of new friendships. Ellie handles the loss of her best friend so well: she recognizes it, she is happy for the chances for her friend, but she isn't despondent. Science is certainly about discovery - but this book explores whether there are some discoveries that shouldn't be pursued (remember Dolly, the clones sheep?) and what would the reasons be for either argument. As a teacher, I would partner with the science teacher for an interdisciplinary unit woven around this book.
★ = I did not like it
★
★ = It was okay
★
★
★ = I liked it
★
★
★
★ = I really liked it
★
★
★
★
★ = I loved it